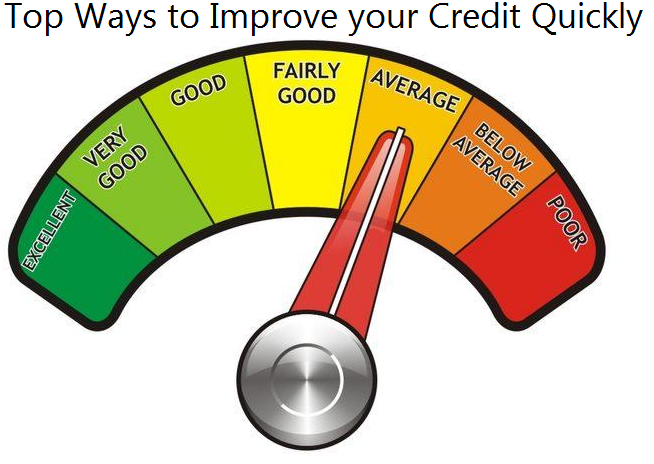 Did you know that 52% of Americans have credits scores that are considered bad? So, before we discuss the top ways to improve your credit quickly, we first need to understand how it crashed. The obvious things that make your credit bottom out is missed payments or late payments. Here are a few other factors that will shoot your credit score in the wrong direction:
High balances. By carrying a large amount of debt, with very little available credit your scores will plummet. The solution here would be to take all of your debts and begin paying off your smallest debt first. Pay the minimums on the large debts and focus all of your extra cash to paying off the smallest first. This is referred to as a "Debt Snowball" by financial guru Dave Ramsey.
Derogatory Credit. Things like liens, judgements, back taxes, and back child support are listed as the top reasons for derogatory credit. If you find that you have things on your credit that should not be on there, you should consider reading this article for tip on how to get them removed from your credit report.
Opening a new account. By purchasing a new vehicle, or opening a new line of credit you will often see a lowering of your credit score.
Closing an account. Although I personally feel as though this is a great thing your credit score will not. Personally, I think you are better off closing accounts once they have been paid off, which will stop you from using it and getting back in debt.
Total accounts. Most articles seem to point to the "no more then three" rule. By having more then three open debts, you will often start to see your credit score trickle down. This includes credit cards, auto loans, mortgages, etc.
Now let's talk about ways to get your credit scores up quickly. In order to understand how to get your score headed in the right direction, we need to understand how our score is established:
35% of the score is based on your payment history.
30% is based on your debt level.
15% is the length of time you're in debt.
10% is new debt.
10% is the type of debt.
So, basically your credit scores come down too:
How much total debt you have.
What type.
How long you have had it.
How you have paid on it to date.
Pretty simple, huh?
Now how do we get our scores headed in the right direction?
Debt Snowball - I personally feel that Dave Ramsey's Debt Snow Ball plan is the best way to pay off debt and get your credit scores up. You can find out the details by visiting his website here. Having available credit and lower balances is the number on way to get your credit scores to sky rocketing!
Get on a Budget - Try using a FREE tool like www.everydollar.com
Auto payments - Put all of your bills on auto pay. That way you will never be late or miss a payment.
Derogatory Credit - Just because you paid off a collection or a lien does not mean that it was removed from your credit history. In most cases it will only fall of after 5-7 years. Check out this article "How to remove derogatory credit"
Want to buy a home? - Then now is the time to start working with a good lender. Have them pull your credit, and give you some advice on what to do to get into a home. It's amazing; often a few tweaks and pay offs can get a score from a 595 to a 625.
Bottom Line is your credit score will not jump over night. It didn't get to where it is over night, so it's going to take time. Work the debt snow ball, get on a budget, drop things that you do not need or use like gym memberships, Starbucks coffees, monthly online subscription boxes, gardeners, etc. Here are the "top things that people waste money on."
ABOUT THE AUTHORS: THIS ARTICLE "Quick ways to improve your credit quickly" WAS PROVIDED BY GLENN TOMPKINS. A REALTOR IN THE SACRAMENTO AREA. MY TEAM OFFERS OVER 30 YEARS OF COMBINED EXPERIENCE, SO IF YOU'RE THINKING OF SELLING OR BUYING, I'D LOVE TO SHARE OUR KNOWLEDGE AND EXPERTISE.
Visit our website at www.MySacramentoHouseHunt.com.
Glenn Tompkins
916-812-0630