Testimonials Page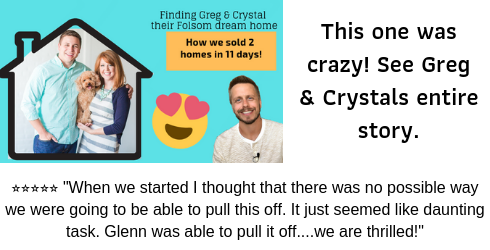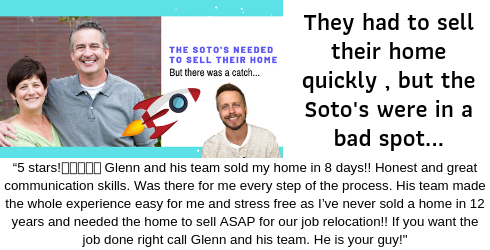 Great realtor! If you're looking for someone who is knowledgeable and personable this is the guy. He is good at gauging what you are looking for in a home and quick to respond to any questions or concerns whether it's in person, email, text, or call. No nonsense. The best thing about Glenn is he continues to work with you long after the closing of the house. I bought my first home in March 2015 and the following year during tax season he sent me my hud docs and stuff I needed in order to file my taxes. I would've never known to have those handy. Thanks for making it easy. This year I had questions regarding my parents home and he quickly responded as well. I'm very happy to have stumbled upon Glenn while I was looking for my home in 2015. I highly recommend him if your looking for a realtor. Thanks Glenn!
Could not ask for a better agent! Always willing to answer my million questions and most always available by phone, text, or email. Buying a house is stressful but Glen made it not so crazy. Had all the listing together and made it as easy as it could be to buy our first house. He was on top of his paperwork and knows his job well! Wholeheartedly would and will recommend Glen to anyone is the area looking to buy or sell a home!
Masterful job on each end of the transaction
I thought buying a home was going to be difficult, but Glenn made the process stress free. We found the home of my dreams, and everything else fell into place.
Glenn Tompkins is my realtor for life. He did an awesome job helping us find our mountain home in Colfax, helped my son sell a house in Elk Grove, and helped me sell a house in Sacramento. He is not only very knowledgeable and skilled at his business, but very responsive and just an all-around nice person. I have absolutely no hesitation referring other family members and friends to Glenn for their real estate needs. In fact, anyone seeking a qualified, experienced real estate agent should contact Glenn Tompkins.
You did it! Thank you immensely for orchestrating this entire effort. I am so glad you were able to represent us with the selling and buying of our homes. It was a learning experience. Having to deal with two transactions and the intricacies that took place were out of this world. Regardless, if we were to do it once again, you would be the only candidate for our Realtor needs. Thank you for trusting us and working with us. I know I can be a pain sometimes and felt at times I was pushing and I apologize for that. I had a lot of my plate as being the main head of household, taking care of my partner for life, my mom with Alzheimer and my nanny, and got stressed out at times because I have a trail of people that look up to me, are my life, and did not want to disappoint them. You managed everything like a true pro! You are a very bright individual, trustworthy, eloquent and a joy to work with. John and I wish you and your family the best and continued success. We will be sending all of our friends, family and co-works your way. Thank you!
If you are in the Sacramento area, or looking to buy in the Sacramento area, and need a Realtor, I highly recommend Glenn Tompkins. I am happily settling in to my new home, after Glenn held my hand through the search, offers, nail biting, tears (yes there were some), negotiations, and every hiccup along the way until I finally got keys in hand. Thank you Glenn for being so patient, diligent, and thorough! We love our home!
Glenn is so knowledgeable regarding the housing market, safe family areas of town, and financing options. Glenn is very personable always meeting us at a moments notice and going the long haul with us. A very honest man, never pushy.
You are the reason the experience was fun and productive and can't thank you enough - Meeting us so spontaneous, teaching us so many things we didn't know – even tho we thought we did LOL LOL And especially for being such a great guy – so honest and with such humor. YOU are truly making a difference in people's lives and especially ours, our children and our grandchild … Thank you is not enough. Wishing you and your family many blessing, great health, prosperity, fortune, love and many great moments in this journey of life. Forever connected!
In all our dealings with Realtors over the past ten years, we have never met anyone as helpful and energetic as you have been. Without hesitation, we would highly recommend your service to anyone who is looking for an experienced Realtor who cares about getting things done and doing them right! Thanks for taking such good care of us, we couldn't have done it without you!
Thank you so much for taking the extra effort to make our first home purchase successful. You were there guiding us through all the crucial and important steps! You really listened to what we wanted in our home and you found exactly what we were looking for - at an amazing price! If we ever outgrow this home, we'll definitely be calling you!
You made buying a home so easy for my wife and I. We were grateful for how much patience you used in answering all of our questions and taking us to look at so many houses. You never pushed us into looking at something we were not interested in. We strongly recommend you to anyone looking at buying a new home.