Realtor in Roseville CA
If you're looking for information on Roseville, CA, as well as all the information you could ever need regarding Roseville Real Estate for sale, then you've come to the right place! Scroll down to see a brief history of the city, popular subdivisions in Roseville, school information and a detailed list of all the real estate for sale in Roseville.
The brief history of Roseville CA - Roseville was originally know as Gringers, but as the Central Pacific Railroad set up a large hub, it was later called Junction. By 1929 more then 5% of the cities populations was employed by the rail road. During WW2 the hub was busier then ever! During the late 40's to early 50's Junction was one of the largest hubs on the west coast for public and commercial travel and transfer of goods. By the early 50's air travel and the constructions of public high ways forced the rail road into obscurity, however even today it's still a larger employer for the city of Roseville.
Modern Roseville is now one of the largest growing cities in the valley of Sacramento, which boomed from just 22,000 people in 1985 to more then 75,000 people in 2000. Although Roseville has held onto some of it's historic charm, the city has grown into a booming urban city.
Homes for sale in West Roseville West Roseville
West Roseville, which is also called by many as Fiddyment is a master planned community that is surrounded by great retirement communties like Sun city and Del Webb. Home prices generally range from $350,000 and exceed $700,000. West Roseville offers gated neighborhoods, semi-custom homes, custom and luxury homes as well as condos. West Rosevilles offer frantastic public schools such as Quail Glen and Blue Oaks Elementary, Barbara Chilton Middle and Woodcreek High School. Homes for sale in West Roseville
Homes for sale in Morgan Creek
Morgan Creek is a popular community that is gated and built around a beautiful 18 hole golf course. The community offers semi custom tract homes, as well as a beautiful sections of all custom homes. The Real estate prices usually range from $600,000 and exceed 1 million. Schools for this area are Quail Glen Elementary, Warren T. Elch Middle School and Oakmonth High School. Homes for sale in Morgan Creek Roseville
Homes for sale in Stone Ridge
Stone Ridge in Roseville is a luxury community. Many people who looking in Stone Ridge also explore homes in Olympus Point and Stone Canyon. These community all offer newer to new tract homes, semi custom and high end custom homes. These communities are located in East Roseville which is popular mostly due to it's proximity to the Galleria shopping mall, the Fountains, restaurants and night life. Real Estate prices in these subdivisions generally are priced $700,000 and exceed 1mil. Homes for sale in Stone Ridge East Roseville
OTHER POPULAR NEIGHBORHOODS include Diamond Oaks, Sun City & Del Webb
Are you looking for a mortgage broker in Roseville? If so, you can find no better then our in house lender Craig Mitchell
The Roseville school system is the back bone to this amazing community. Most schools are rated between an eight and a ten. For information on local Roseville school scores, boundaries, and ratings go HERE
TOP GOLF:

Built in 2016, Top Golf is so much fun! Work on your game, or host a party/event, the young, the old, the best golf or the worst, everyone can have fun here! Each area is climate controlled, has a ultra high definition television where you can order drinks and food. There is also a roof top terrace with a full bar and fire pits.

ROSEVILLE GALLERIA:

The Roseville Galleria is the back bone to the Roseville area. Once it was constructed it created a whirl-wind of construction such as: The Fountains Shopping Plaza, Top Golf, Stanford Ranch Plaza, and all the added shopping centers along I-80 & I-65. The growing community forced the city to expand with 25,000+ homes being constructed in the last decade.

Surrounding neighborhoods:
Helpful Links:
Roseville real estate agent – Why Choose A Top Producer?
If you're thinking about selling your home, investment property, condominium, townhouse, or other Roseville CA Real Estate, allow me to help make the sale a pleasant experience.
When looking for a Realtors in Roseville CA there should be a number of important things you look for in the interview, including the agents past track record of success, statistical data such as list price to sale price ratios, and average days on market. In addition, you should find out what communication and marketing skills they have.
Our number one goal is to put a SOLD sign in your lawn, however, we also want to make sure you feel that the home selling process was seamless and pain free.
It would be difficult to find another Realtors in Roseville CA who is providing the level of online exposure through social media integration or SEO (search engine optimized) results. Your property will be found in all of the places that today's buyer would be searching for Roseville Homes for Sale, including this website www.MySacramentoHouseHunt.com in addition to many other highly indexed websites.
In addition to the incredible online exposure your home will receive, other things that make us stand out is the use of high quality photographs, detailed property descriptions, virtual tours, Remax.com exposure, as well as exposure on 100's of other websites.

My Certified Home Program will help you sell for more, sell quickly, and make your selling experience as smooth as it gets.
Whether you're in the market to buy a home in Roseville CA or sell your Roseville CA home, let us be your guide to the real estate market as Top Roseville CA real estate agents.
A few of our accomplishments that I am proud of include:
Re/Max Executive club
Re/Max 100% Club
Keller Williams Red Club.
REO, Foreclosure & Short Sale Certified.
Consistently in the top 5% of agents
OME Online marketing degree.
Top Producer for Home Partners of America.
13+ Years of Real Estate Experience
& Much more!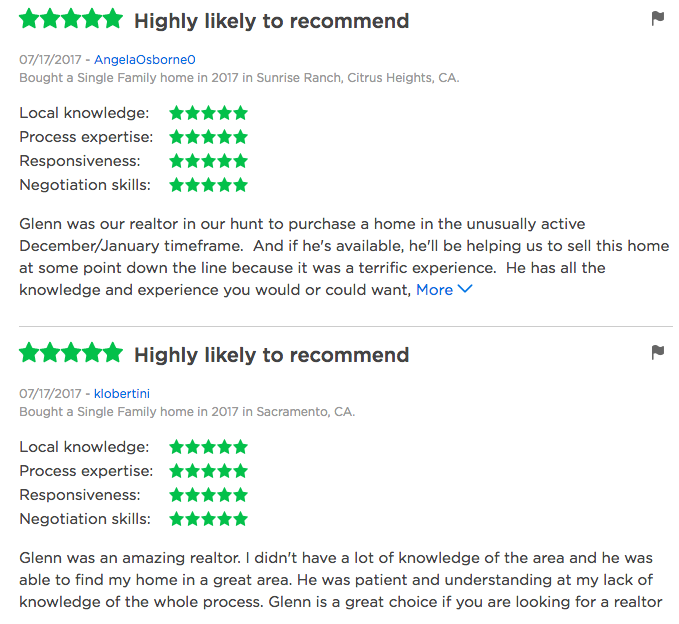 Roseville Real Estate Agent

Glenn Tompkins

916-812-0630