How accurate is my Zillow Appraisal?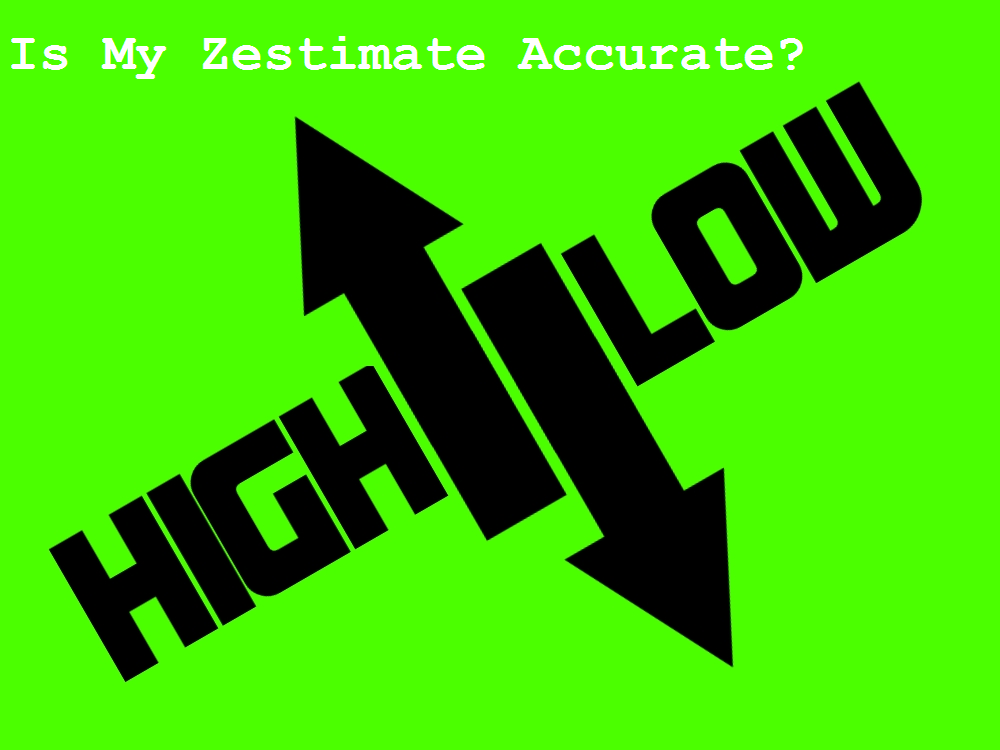 Let's first discuss what Zillow gets right, and then I will give you "4 Reasons Why Zillows Appraisals Are Generally Not Accurate."
Zillow offers a large list of beneficial articles that offer lots of educational material for first time home buyers, sellers, investors, land lords and DIY'ers. Their website is modern, easy to use, and offers all the minute details of each and ever home. Their "Ap" for mobile smart phones is second to none, and allows you to go to the map section and see the price of any home. For me, this is about all Zillow gets right.
Now let's review The 4 Reasons a Zillow Appraisal is inaccurate.
Their "Zestimate" has gone through many updates over the years, but is constantly a thorn in the side for many home owners and especially Real Estate Professionals. According Zillow itself, they admit that their Zestimates are off by an average of almost 5%! At one point they actually had this as high as 7.3%! In Dallas Fort Worth Texas they are actually admitting that their Zestimates are off by 9%! Sacramento is currently listed as 4%. Now before you start to say that 4% is not a lot, on a $500,000 home we are talking about $20,000! Some areas only offer Zillow the "Tax assessor's value, which is unable to compute Zestimate accuracy." Zillow rates these areas as a one star value estimator. Now before you think this must be for rural areas and not big cities here is a list of areas that have two starts or less - San Antonio, St. Louis, Pittsburgh, New York, Houston, Kansas City...you get the point.
Zillow could have and should have given a home owner a value range, but they made the error of trying to give you a single price. I took the top 40 markets and averaged their error rate to 5.3%, so home owners should understand that their Zestimate could be either to high or to low. Buyers should also understand this same price pattern for a home they may be considering purchasing.
Zillow is currently providing over 100 million property values nation wide. It's simply impossible for them to accurately predict the value of each and ever home. Recently, I went out and met with a home owner who was thinking about selling their home. Without disclosing the exact address the sellers Zestimate was $402,000. Here is why this seller was lucky they did not blindly follow this online appraisal.
On the left is the 95818 zip code in Sacramento, CA. Locals call this area Land Park, or in this example Curtis Park. As you can see the red line is the zip code cut off, where 95818 and 95817 meet. This home owners home was located in the green box, which is interesting because the Sacramento Freeway is the actual neighborhood cut off. One side of the freeway feels much different then the other. Homes on one side sell for more then the other. With this specific home the Zestimate was using comparables within a mile radius which was throwing the Zestimate way off. We were able to place a value on the home at $499,000! That's a $97,000 difference between market value and Zillow's Zestimate.
4. Zillow can not tell if you just put in a brand new high end kitchen. Zillow also can not tell if you home is located on a busy street or backs up to a busy rail road track. Zillow cannot tell if your homes floor plan is choppy, if it has a leaking roof, or the garage was converted without a permit. There are so many times that a Zestimate has been inaccurate simply based on small differences from one home and another.
Other articles to consider:
How accurate is a Zillow Zestimate? by the Washington Post
Just how accurate is Zillow's Zestimate? by the Chicago Times
Final thoughts - Although I do see Zillows benefit, I am constantly fighting their inaccurate list of "available" homes. I have had so many home buyers in the past send over a list of homes that they found on Zillow, only for me to look them up and find that 50% are pending or sold.
Zillow also offers a portal of foreclosed homes that are not currently available and may never be available. The home is still going through the foreclosure process, the home could be sold for cash at the county steps, sold at auction, or the home owner may make the needed payments and keep the property. In my opinion, this list should not be on their website at all.
Between inaccurate home valuations, inaccurate lists of available homes and an inaccurate list of foreclosures/short sales, it's important to see Zillow for what it is - a global search engine full of valuable resources and potentially inaccurate local statistics and information.
ABOUT THE AUTHORS: THIS ARTICLE "Is a Zillow Appraisal accurate?" WAS PROVIDED BY GLENN TOMPKINS. A REALTOR IN THE SACRAMENTO AREA. MY TEAM OFFERS OVER 30 YEARS OF COMBINED EXPERIENCE, SO IF YOU'RE THINKING OF SELLING OR BUYING, I'D LOVE TO SHARE OUR KNOWLEDGE AND EXPERTISE.
Visit our website at www.MySacramentoHouseHunt.com.