How to remove the fear of getting a home loan.
The seven fears that most people have when getting a home loan.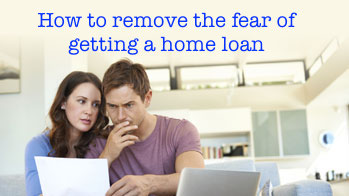 As a Realtor we always want our home buyers to be at least pre qualified before beginning to look at houses. The reasons are many, but the biggest one is that a shocking 58% of people in the United States have sub par credit! Without a credit score of at least a 620, there are almost no lenders out there that will give you a home loan even with great income and long term employment.
Here are few important reason why we suggest that you start working with a lender from the beginning.
Payment is everything, so it's important that you only look at homes within your set budget.
Many people do not understand that a lender will charge you mortgage insurance if you put less then 20% down. "PMI" can cost you hundreds per month, so it's important to factor this in from the beginning.
There are different kinds of lenders like credit unions, mortgage brokers and mortgage bankers. Some may offer lower closing costs, government assistance loans, and they all offer different rates.
You have to make sure you have enough saved for your down payment.
Can you get a loan if you currently own a home?
For many, the mortgage process can be scary. Especially if this is going to be your first home purchase.
Fear one - Do I have enough money saved? The basic loan today requires a minimum of 3.5% of the purchase price down. So, on a $300,00 you should expect to put $10,500 down.
Fear two - Other unexpected costs! Expect to pay for closing costs which I always tell my buyers to budget 2% for. Closing costs go towards title fees, impounds for taxes and insurance, pay out to your lender for their services, and more. You will also need $300-$400 for your appraisal.
Fear three - I have WAY too much debt! According to my lender, he does not want you to spend more then 42% of your monthly income on re accuring costs. Do not factor in your current rent.
Fear four - My credit is too low. As I mentioned before, Federal loans are available for people with credit scores above 620.
Fear five - Do I even make enough to buy a home? Lenders want you to have no more then 35% of your income going towards your mortgage payments. This includes principle, interest, taxes, insurance and mortgage insurance (if it applies) Check out this calculator that will help you determine how much you might qualify for.
Fear six - If I get approved then that means I'm officially house hunting! Well yes and no. It could mean that you are being pro active and making sure that you are able to buy a home 30, 60, or even 90 days from your initial approval. Doing this early will help make sure that you don't find the home of your dreams without being ready to make an offer.
Fear seven - What if I don't qualify? Although it's disappointing, a good lender will provide you with a plan of action to help you get into a home. You will now know what you need to do to get ready in the near future. Best of all it didn't cost you any money!
The whole process of buying a home is stressful, so make sure you select a lender who has good ratings online, and comes from someone you trust. Your Realtor is going to offer a great referral to a lender that he or she knows and trusts. As Dave Ramsey (A very popular financial guru) always says, make sure you only work with people who have the heart of a teacher.
Our team recommends Craig Mitchell with Cherry Creek Mortgage. We believe that there is no one more knowledgeable and caring in the business. You can reach him [here]