How to accurately price your home right on the money
In a recent CAR (California Association of Realtors) stat sheet, they show that 22% of homes fail to sell. I was surprised to see the number was that high! I ran the numbers for Folsom California and currently 26% of the market is priced above the median price per square foot. These numbers not only show that a portion of the market is priced too high, but also that prices will continue to go up.
It can be very difficult to price your home, because there are just so many factors that go into accurately predicting the market value. Here is my check list that I go through when pricing my properties:
3 steps to pricing your home right on the money
Step 1: I first pull up the active listings that are similar size (+or- 250sf) within a mile radius. Yes, I start with the actives! I want to know who I am going to be competing with. I can also gauge the supply and demand. Are there 25 homes within a half mile or two.....that's very important.
Step 2: I look at which homes are currently in escrow - Pending sale. These are the most recent "active" homes to get an accepted offer. Pending sales are going to be your best indication of where you should price you home. These are the main things that I look for:
How are these homes priced?
Are there more or less upgrades then the active properties?
I call the listing agents to find out what their property actually sold for.
How do the locations compare - closer to a park, a school, a busy street, cul-de-sac, etc.
Is the entire area the same age, or is there a mix or new and old?
Step 3: Then I look at the sold properties. I prefer to go back no more then four months. The real estate market can turn quickly, so I use the sold properties specifically to make sure that we have comps for the appraiser. Here are a few more things that you have to consider:
Major factors to consider when pricing your home for sale:
The bells and whistles matter. Buyers are always looking for homes that are tastefully updated. If your kitchen and bathrooms are stuck in the 80's then your home is not going to sell for as much as you might want.
Not all 4 bedroom, 2 bath homes are the same. I get this one all the time. Think about this; if a home has all four bedrooms upstairs, while the other has three up and one down are they the same? NO! By having that bedroom downstairs this allows more opportunity for buyers who may have an older family member living with them. I have seen down stairs bedrooms used as hair studios, class rooms and even an acupuncture business.
Zillow is usually wrong. It seems like Zillow is more wrong then right. In many cases I have seen Zillow under estimate your properties value, so it can go both ways. Zillows comps don't take important factors in consideration when giving you their "Zestimate." For example, a home that is closer to a train track will generally sell for less then a home that's not. Or, a home that has an unusual lay out will generally appeal to less buyers making it worth less then similar sized homes in the area. These just factors that Zillow cannot take into consideration.
Pricing pyramid will predict your future foot traffic: I love this pricing pyramid, which shows you the traffic you will get based on the actual list price. This predicts that a "median priced home," will only get 60% your target buyers to walk through your home.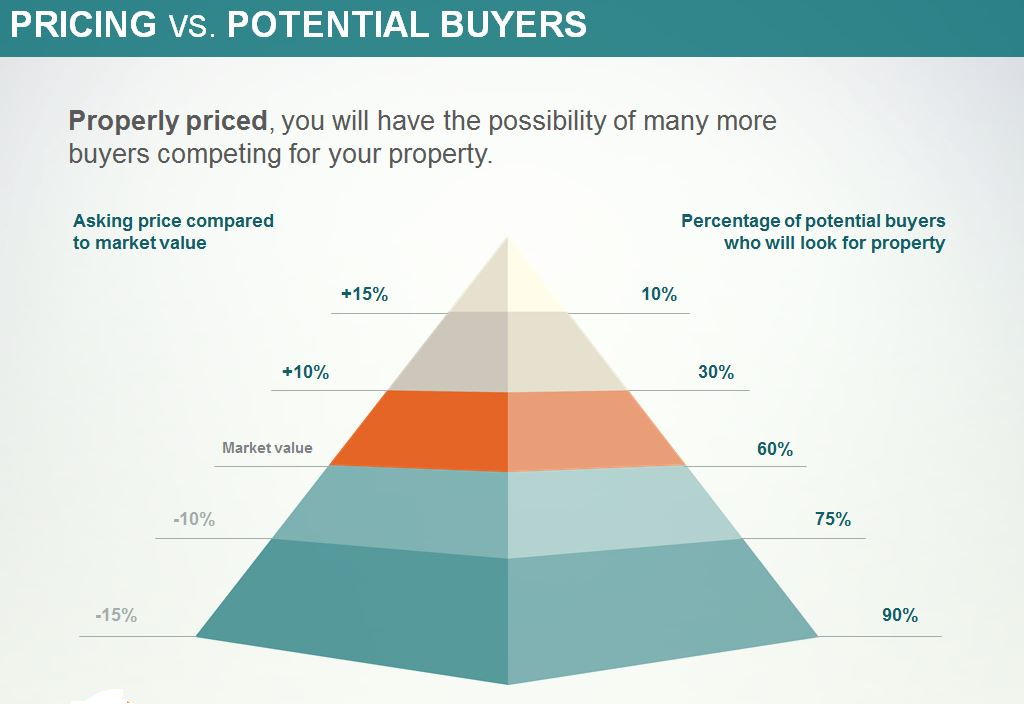 Use an agent early in the process. This is important because a good agent tours many homes in your area. We know which market trends are popular, which homes are similar to yours and can even put your on a path to sell your home for it's highest market value. Check out what I did with $1,000, which helped my seller make $25,000 more then they were previously listed for.
Thinking about selling your home? You can get a FREE Market analysis [here]
Related articles:
7 costly mistakes when selling your home
What home improvments give you the best ROI
ABOUT THE AUTHORS: THIS ARTICLE "How to accurately price your home right on the money." WAS PROVIDED BY GLENN TOMPKINS. A REALTOR IN THE SACRAMENTO AREA. MY TEAM OFFERS OVER 30 YEARS OF COMBINED EXPERIENCE, SO IF YOU'RE THINKING OF SELLING OR BUYING, I'D LOVE TO SHARE OUR KNOWLEDGE AND EXPERTISE.
Visit our website at www.MySacramentoHouseHunt.com.
916-812-0630