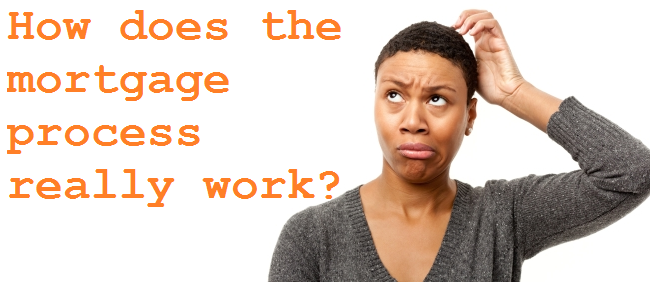 How does the mortgage process work?
Let's face it, looking at homes is a lot of fun! Doing all the leg work before, like getting a home loan, is not fun. In a recent pole, the number one reason people put the process on the back burner is because they are scared of the process. I would imagine they were scared of hearing the word declined or no. If this is you, I'd recommend reading my previous blog article "How to take the fear out of getting a home loan," which you can read hear.
The second reason people said that they did not want to apply for a home loan was that they felt as though they did not understand the whole process. So, since I have already covered the fear part of it, I'd like to cover the mortgage process step by step.
Here are 10 steps to understanding how to get a home loan.
Selecting a lender. This can be difficult because there are so many lenders and companies out there. Which one do you choose? I'd say that your first step would be to talk to your family, friends and co-workers to find out who they know and trust. If you do not want to tell these people that you are planning on buying a home, then I would suggest talking to your Real Estate agent. We have people we do business with whom we know and trust. The main reason we select these people is because they are kind to out clients, offer great programs, and can get the deal done as stress free as possible. My team all use the same lender - Craig Mitchell, whom you can [contact here]
The application. Applying is the very first step in gathering information and determining which program meets your needs and goals. This step should be done before you step foot into any homes. It is super important that this information is accurate to prevent any hick-ups later in the process.
Pre-Qualification. - This process is usually done 24-48 hours after all of your documents have been submitted and the application has been completed. Your lender can go one step further by having an Underwritter review your file before you go out looking. This will give everyone the reassurance that you are a highly qualified buyer, and can be the difference between getting a home and not getting a home if there are multiple offers.
Documentation. Once you are in contract on a home it's important that you get in touch with your lender to find out if there are any updated documents that are need. In most cases it's been weeks since your initial approval, so the lender is going to need up to date documents to resubmit for final approval.
The appraisal. The appraisal will be ordered by your lender. Usually the lender orders this within the first 5-7 days on being in contract, and is completed around day 14. The appraisal will need to show at least the value of your purchase. If not, then the bank will only loan up to the appraised value, and you may need to renegotiate or cancel the deal based on a conflict of value, available funds to close, a dispute between the actual value of the home.
Title report. The title report will come in showing if there are any liens, judgement's or other problems with the title of your new home.
Full loan Submission. Now that everything has been collected the loan is sent in for final approval. This is where an "Underwritter" is brought in to review the file and approve it. Depending on volume of loans and the type of loan, this generally takes 48-72 hours. Sometimes more.
Conditions. The Underwritter will approve your loan, but generally there are conditions. These conditions are the things the Underwritter needs clarification on or that they see is missing from your file. Any actions requested by the Underwritter should be handled immediately to avoid any delays. Once they have been completed it will take another 48-72 for the Underwritter to review the file again.
Loan documents and signing. Once final approval has been made the Underwritter will order loan docs. Loan documents are sent to your title officer for final signing. These papers will be used to fund and close your loan. Before the signing you will be given your net sheet for review. These numbers will show you all of the "closing costs," and how much you will need to bring or wire in order to close.
Funding & recording. All of your signatures and closing conditions have been completed and the loan is approved for funding and recording. This step will take either 24 or 48 hours. Once the loan has funded it can be sent to the county for recording. If the funding happens before 1pm, then it generally records the same day. If not then it will happen the following afternoon.
Yahoo and congratulations, you're a home owner! If you're in the market for buying or selling a home and need helping finding the perfect home loan, feel free to reach out at me here, and I will help connect you with the best possible in the business!
ABOUT THE AUTHORS: THIS ARTICLE "How does the mortgage process work?" WAS PROVIDED BY GLENN TOMPKINS. A REALTOR IN THE SACRAMENTO AREA. MY TEAM OFFERS OVER 30 YEARS OF COMBINED EXPERIENCE, SO IF YOU'RE THINKING OF SELLING OR BUYING, I'D LOVE TO SHARE OUR KNOWLEDGE AND EXPERTISE.
Visit our website at www.MySacramentoHouseHunt.com.
916-812-0630