Don't Make These 7 Costly Mistakes When Selling Your Home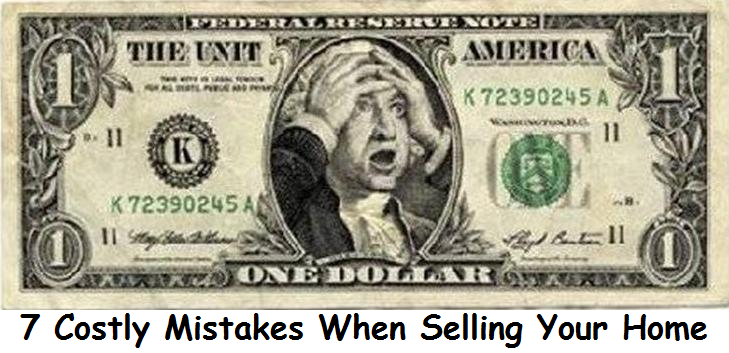 In order to get the most amount of money you will want to avoid these fatal mistakes that most sellers make.
2017 is going to be the year of the seller. Similar to 2005 sellers can expect lots of foot traffic, increased interest and typically multiple offers. So, if you are a seller that is reading this and your experience has been different then I'm guessing that you are making at least one of these mistakes if not many.
If you are thinking about putting your home on the market then lucky you, because this extra research will pay off big time!
Mispricing your home. I put this as number one because it is the number one mistake that sellers make. "If I don't get my price then I will just reduce it until it sells."I've lost count of how many times I have heard this during a listing appointment." There are about a million reason *Singing like Lady GaGa* that this is a bad idea, so make sure you understand the market, become familiar with the recent sales in your area, and understand that plantation shutters do not add 30K to your list price.
Waiting and trying to time the market. You can only squeeze a lemon so many times and still get juice. When the market is slowing down you will be the last to know, so don't try and wait until the bitter end of a sellers market to strike a deal.
Listing the property as a FSBO. Even in a sellers market, selling home can have many pitfalls. I listed 10 of them in a recent blog article which you can read here. Listing your home on your own has a 52% higher risk of future litigation. The facts still show year after year that FSBO'ers sell for less and sit on the market much longer.
Taking horrible pictures. I just cannot imagine hiring an agent to sell my home, and then see it online and the photos are blurry, crooked, dark, etc. Unfortunately, I see it every day. 90%+ of home buyers start online, so make sure your photos looks amazing and point out all of the wonderful features of your home!
Not having a pre listing plan. Deep cleaning your home can make you thousands when listing your property. Thousands just by cleaning! When you sell your car, don't you detail it? You should do the same with your property. This is also the time to declutter and donate. Clean out closets, garages, kitchen counter tops and cabinets.
Neglecting needed repairs. The buyers who select your home are going to have a professional inspection. In many cases the list of items found can simply kill the deal. If it doesn't kill the deal then it will costs you thousands! If repairs are visual, then buyers will reflect this in their offer price. Doing needed repairs before your home hits the market will save you hundreds and even thousands, so take care of them now!
Failing to disclose everything. By not disclosing something that you would consider minor could be a huge lawsuit years down the road. Don't be afraid to point out the neighbors drum set, or other known imperfections. By being upfront and honest you secure your future.
Bonus tip! Keep your ego out of the deal. I know you love your home. I know you put a lot of blood, sweat and tears into it, but at the end of the day the buyers are only considering the comps, the upgrades and the purchase price. They are comparing your home to the 25 others that they have seen. Keep your ego out of it and focus on the deal.
ABOUT THE AUTHORS: THIS ARTICLE "Don't Make These 7 Costly Mistakes When Selling Your Home" WAS PROVIDED BY GLENN TOMPKINS. A REALTOR IN THE SACRAMENTO AREA. MY TEAM OFFERS OVER 30 YEARS OF COMBINED EXPERIENCE, SO IF YOU'RE THINKING OF SELLING OR BUYING, I'D LOVE TO SHARE OUR KNOWLEDGE AND EXPERTISE.
Visit our website at www.MySacramentoHouseHunt.com.
916-812-0630