6 Tips You Must Consider When Buying Your First Home

Quick story. I met with a couple the other night and we decided the we would sit down over a cup of coffee and talk about buying a home in Spring of 2017. This couple wanted to make sure that they were truly ready to buy six months from now.
After our meeting I realized that many of you are wondering the same thing, and are probably 3-6 months out from buying your first home. If you would like to grab a cup of coffee or sit down at my office like this couple did then you can contact me [here]
I've covered the initial steps of buying a home in a "Cliffsnotes" style article "Will you be a home buyers stud or dud"
Here are 6 important tips to consider when being a first time home buyer.
1) In today's Real Estate there is no longer a loan set up for first time home buyers. Most people are using Federal loans referred to as FHA. These loans require 3.5% of the purchase price as your minimum down payment. So, on a $300,000 home you'd expect to put a minimum of $10,500 down.
2) Buyers need to save for closing costs. A good rule of thumb is to save an additional 2% of the purchase price for fees related to closing. Typical costs would be a Title Fee, impounds for taxes and insurance, recording of the grant deed, pay out to the lender & more.
In most cases I can help work these costs into your loan, or get a credit from the lender. Let me help show you how to save this money [contact me here]
This is very important! I speak with so many buyers (including my couple this week) who do not understand what Mortgage Insurance is, and how it effects the monthly payments. My coffee couple stated that they felt comfortable staying around $300,000. I asked them what kind of monthly payments they wanted and she said "about $1500." That's when I knew that they had not factored in the mortgage insurance that they would have to pay.
Here is how the payments might look on a $300,000 home with "PMI"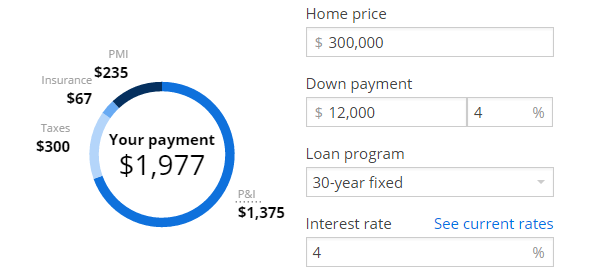 Here is how the payments would be if they put 20% down and did not have PMI.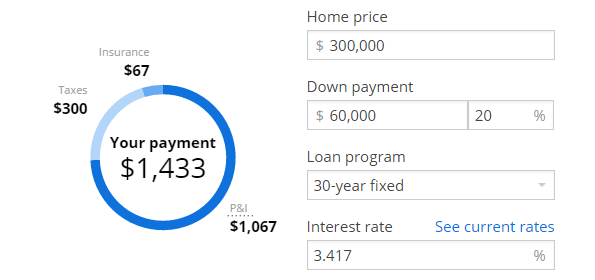 Now my coffee clients are going to have to make a big decision here:
Put 20% down to get rid of the PMI.
Adjust their purchase price down to keep their payments closer to $1500
Pay more then $1500 per month in order to find a home that works for them.
4) Understand that there is no "perfect" home out there. This is hands down the hardest thing for first time home buyers to understand! These are a few examples that I see happen over and over again
Buyers who HAVE to have a pool, but end up buying a home without a pool.
Buyers who HAVE to have a three car garage, but end up with a two car garage.
Buyers who will ONLY buy a single story home, but end up in a two story home.
Buyers who HAVE to have a half acre lot, but end up with a .17 or about a 7500sf lot.
I am only pointing these things out because you need to be open minded when looking for a home. Especially your first home.
5) Consider using the lender that your Realtor is recommending. First, understand that we make no money off of the lender when you use them. It is illegal in California for us to accept a referral fee or any compensation for doing business together. The biggest reason why we want you to consider using them is because we have vetted them. We know that they will offer you the best lending experience and are most likely to make this part of the process stress free.
There is nothing worst then someone bringing in an out of state lender that they found online. These are a few reasons why this is almost always a bad idea.
The listing agent who is going to review your offer with the sellers may not feel confident that this person has truly vetted you as a buyer. If there are multiple bids then this may be the difference between you getting the home and not.
Out of state lenders often take longer to do loans.
And, this is a big one! Us seasoned agents know that out of state lenders have a tract record of not even closing the deal at all.
If it's all about the rate (and it should!), then have your local lender do everything thing that they can to get you a loan that is either the same or better in one way or another.
6) Don't over spend. Being house poor sucks. Do I even need to elaborate on this one.....
ABOUT THE AUTHORS: THIS ARTICLE "6 Tips You Must Consider When Buying Your First Home" WAS PROVIDED BY GLENN TOMPKINS. A REALTOR IN THE SACRAMENTO AREA. MY TEAM OFFERS OVER 30 YEARS OF COMBINED EXPERIENCE, SO IF YOU'RE THINKING OF SELLING OR BUYING, I'D LOVE TO SHARE OUR KNOWLEDGE AND EXPERTISE.
Visit our website at www.MySacramentoHouseHunt.com.
916-812-0630